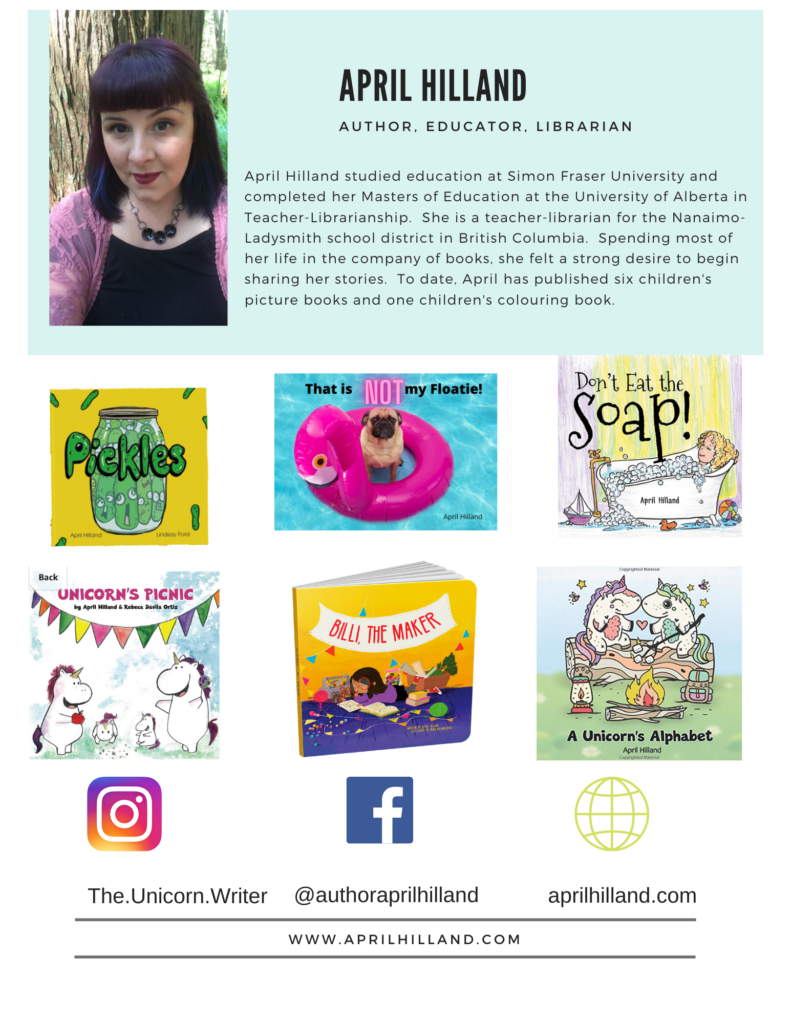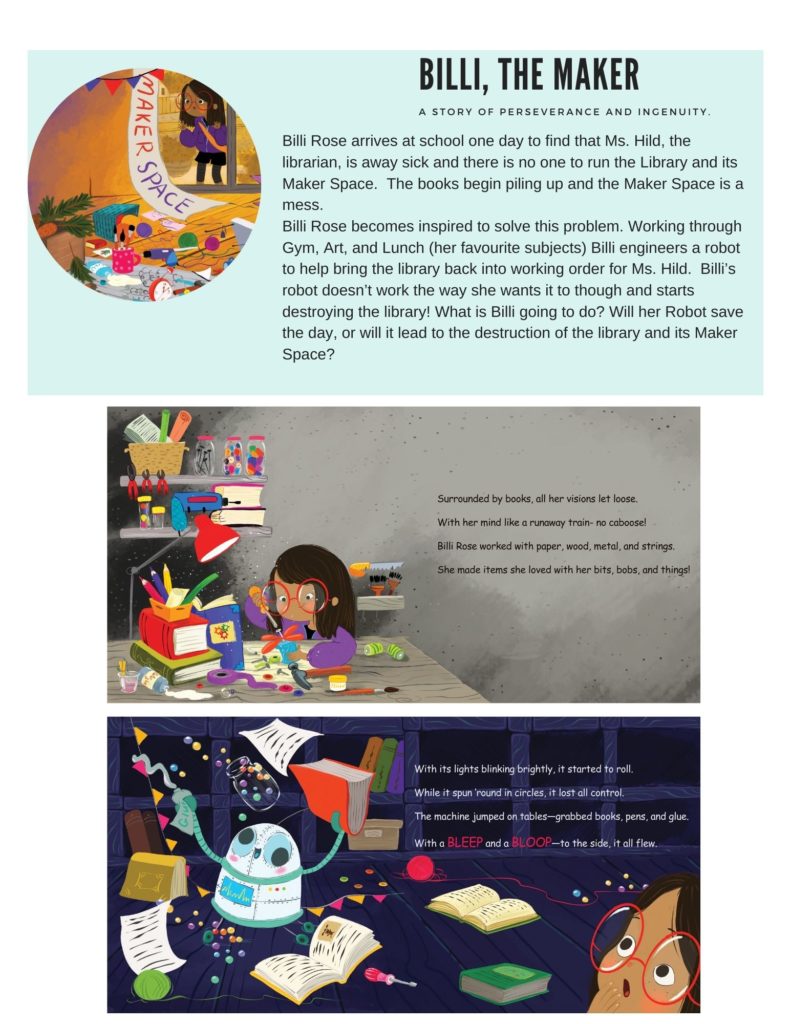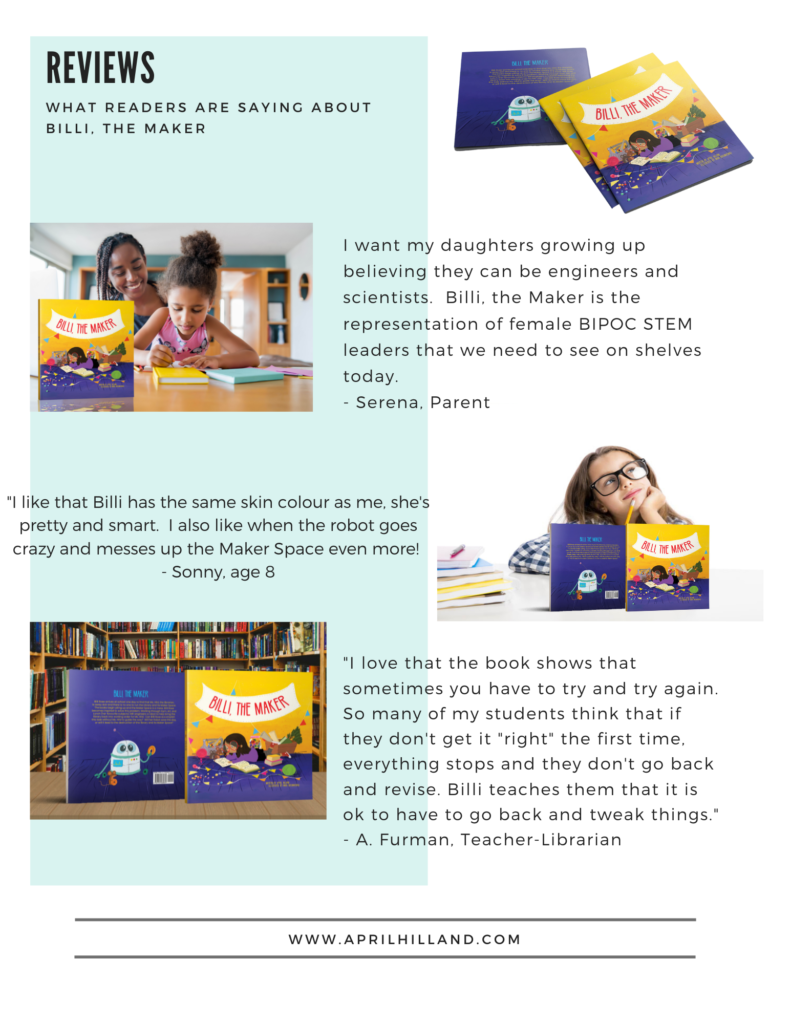 Local teacher-librarian launches book to change the face of STEM.
How a new illustrated children's book is portraying under-represented youth to inspire a new generation of female STEM leaders.
April Hilland, a Nanaimo teacher-librarian and children's author, announced today the launch of her 6th children's picture book, Billi, the Maker for children ages 5-9 years old.
Billi, the Maker uses a playful rhyming storyline to share the story of Billi (a character inspired by her students), a young budding inventor who engineers a robot to help her librarian who is out sick for the week which has left the library and its Maker Space closed and in shambles.
Billi's story of failure, persistence, and ingenuity highlight the design process which is key to STEM (Science, Technology, Engineering, and Math) education. Billi represents a persistent, resilient, and creative indigenous role model for budding engineers.
The idea for Billi, the Maker, started taking shape for April in 2016 when she was dismayed to find a lack of STEM related books featuring diverse characters. In 2022, the trends are definitely starting to shift with popular books such as Ada Twist, Scientist and Emma Ren, Robot Engineer but April still couldn't find books that reflected all of her students, specifically, her female indigenous students.
April started digging and found out that "less than 2 percent of people working in science, engineering, technology and mathematics (STEM) occupations are Indigenous." ("Pathways into Science, Technology, Engineering and Math (STEM) for Indigenous Learners") even less than that, are indigenous women. April states, "I want that number to change. As a teacher and librarian, I can start with ensuring I have adequate representation of diverse people involved in STEM on my library shelves. As a children's author, when I couldn't find the book I wanted for my library, I wrote it."
Billli, the Maker will be launching on Kickstarter for pre-orders on Saturday April 2nd, 2022. Readers will want to take advantage of this pre-order as the signed 1st edition book will come with bookmarks, an activity guide for teachers and parents and other special goodies that will only be available through the Kickstarter campaign. Among the opportunities to purchase the book, philanthropic-minded individuals can sponsor a classroom, library, or youth group to give each child a copy of the book and an author visit. There is even an opportunity to sponsor an American Sign Language interpretation of the story to make it accessible for all children. Visit Billi, the Maker's Kickstarter Campaign here: https://www.kickstarter.com/projects/aprilhilland/billi-the-maker-a-story-of-perseverance-and-ingenuity